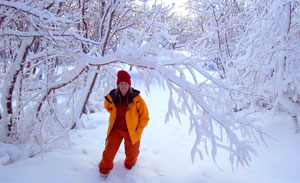 Lavendier Myers studied with Lawrence Rakovan at University of Southern Maine and at the Corcoran School of Art in Washington D.C. with Brockie Stevenson, Leslie Exton, Hayes Friedman, and Blaine Davis.
A typically individualistic Maine islander artist, Myers primarily uses oil paint outdoors in summer at Cliff Island, Peaks Island, and the Diamond Islands in Casco Bay, Waldoboro, Friendship, Monhegan, Cushing and Port Clyde.
Winters, Myers uses acryllic paints at her studio in Portland.
Lavendier Myers has held many SOLO exhibits. To name a few: Capricorn Gallery, Bethesda Maryland, Gallery Music, Portland Maine, Gem Gallery and Richard Boyd Gallery, Peaks Island Maine, and TideMark Gallery at Waldoboro Maine.
Purchase list by Individuals and Corporations available upon request.
Myers spent 11 enjoyable years Docenting at Portland Museum of Art, Portland Maine.