2017
THOMAS MOSER Gallery,
149 Main Street, Freeport, Maine.
September, 2012
Richard Boyd Gallery, solo show.
2012
America India Foundation, Boston Museum of Fine Arts .
June, 2012
Waldoboro Library of the Month Artist.
December, 2011
Featured artist at Key Bank on Commerical Street, Portland, Maine for the month of December 2011.
WINTER STUDIO Hampshire Street, East End Portland, open by appointment
Peaks Island Art Walk, ongoing (under community)
Holidays, 2011
Shop on Peaks on the grounds of Greenwood Garden will be open during the holidays.
June 30th to July 13th, 2011
I am having a show at GEM ART GALLERY, Peaks Island, Maine
Fall of 2010
Tidemark Gallery, Waldoboro, Maine
Opening: October 9th 5 - 7 pm.
Show: October 6th to October 30th.
Summer of 2010
Summer of 2009
Summer of 2008
The Gallery at Diamond Cove
August 16, 2008
Annual Paint the Town
Artist sets up easel in the town and sells painting at evening auction at Waldoboro, Maine. Proceeds to The Medomak Valley Community Foundation.
Trefethen Evergeen Improvement Association (TEIA)
The Color of Peaks, 2008 - 2009
Peaks Island Art Walk
Last Saturday of each month
Open Studio, 136 Island Avenue, Peaks Island, Maine
Directions: Walking uphill from the Ferry Landing, take the very first left. Studio is in the tenth structure down, from that left turn.
"Moose, Cormorants and other Maine Island Schtuff"
Reception: June 26, 5-8pm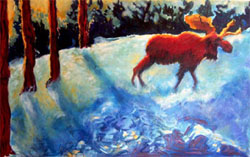 The Gem
Peaks Island's Art Gallery
62 Island Avenue
Peaks Island, Maine
Show dates: June 26 - July 1
Gallery Hours: 2-7 pm
Ferry departs daily from Casco Bay Lines, Commercial Street, Portland.
The Gallery at Diamond Cove, Little Diamond Island, Maine
"Visions of the Contemporary American Landscape" curated by Patrick Shoemaker
CeleSoiree, 2007, 2008, 2009
Contributed a painting to this fund-raiser and celebration.